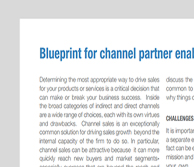 Blueprint for channel partner enablement success
A poorly developed plan for enabling new channel partners can yield disappointing results. However, there is an approach or process, known as channel sales enablement that can be used to fully recognize the potential of the channel sales model. In this whitepaper we will outline the blueprint that explains how to build a fully engaged channel partner model that excels in selling.
Copyright 2006 - 2013 Mindmatrix, The Marketing Automation Software Company. All Rights Reserved.
*

denotes mandatory fields

| | | |
| --- | --- | --- |
| First Name | | * |

| | | |
| --- | --- | --- |
| Last Name | | * |

| | | |
| --- | --- | --- |
| Phone Number | | * |

| | | |
| --- | --- | --- |
| Email | | * |

| | | |
| --- | --- | --- |
| Company Name | | * |

To ensure this is a valid request and not an automated SPAM reply, please provide your answer to the simple math question below:

Check to state you have read and agree to our Terms & conditions
processing