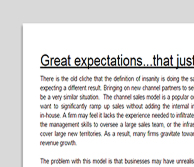 Great expectations...that just don't work
Download the whitepaper to learn the 4 major things that firms think a channel partner should be doing, and why that isn't going to happen. Whether they are even aware of it, many businesses have expectations of what their channel partners will do to help sell a product, and these are rarely going to be met…..
Copyright 2006 - 2013 Mindmatrix, The Marketing Automation Software Company. All Rights Reserved.
*

denotes mandatory fields

| | | |
| --- | --- | --- |
| First Name | | * |

| | | |
| --- | --- | --- |
| Last Name | | * |

| | | |
| --- | --- | --- |
| Phone Number | | * |

| | | |
| --- | --- | --- |
| Email | | * |

| | | |
| --- | --- | --- |
| Company Name | | * |

To ensure this is a valid request and not an automated SPAM reply, please provide your answer to the simple math question below:

Check to state you have read and agree to our Terms & conditions
processing