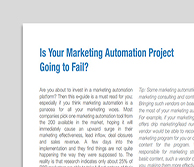 Is Your Marketing Automation Project Going to Fail?
Most companies deploying marketing automation assume it will act as the remedy to all their marketing and sales woes. But, that's rarely the case. In fact, a research points out that a majority of marketing automation investments are not utilized to their full potential. It is no surprise then, that most marketing automation project fail. This whitepaper tells you how you can make sure yours is not one of them.
Copyright 2006 - 2013 Mindmatrix, The Marketing Automation Software Company. All Rights Reserved.
*

denotes mandatory fields

| | | |
| --- | --- | --- |
| First Name | | * |

| | | |
| --- | --- | --- |
| Last Name | | * |

| | | |
| --- | --- | --- |
| Phone Number | | * |

| | | |
| --- | --- | --- |
| Email | | * |

| | | |
| --- | --- | --- |
| Company Name | | * |

To ensure this is a valid request and not an automated SPAM reply, please provide your answer to the simple math question below:

Check to state you have read and agree to our Terms & conditions
processing