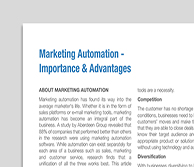 Marketing Automation - Importance & Advantages
A study by Aberdeen Group revealed that 88% of companies that performed better than others in the research were the ones that employed closed loop marketing. While automation can exist separately for each function of the business such as sales, marketing and customer service, research found that a unification of all the three works best. This whitepaper elaborates on the importance of adopting a holistic approach to automation that includes sales and marketing.
Copyright 2006 - 2013 Mindmatrix, The Marketing Automation Software Company. All Rights Reserved.
*

denotes mandatory fields

| | | |
| --- | --- | --- |
| First Name | | * |

| | | |
| --- | --- | --- |
| Last Name | | * |

| | | |
| --- | --- | --- |
| Phone Number | | * |

| | | |
| --- | --- | --- |
| Email | | * |

| | | |
| --- | --- | --- |
| Company Name | | * |

To ensure this is a valid request and not an automated SPAM reply, please provide your answer to the simple math question below:

Check to state you have read and agree to our Terms & conditions
processing