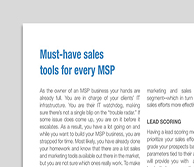 Must have sales tools for every MSP
Most MSP business owners have their hands full managing their client's IT infrastructure. They have a lot going on and while they want to build their MSP business, they are also strapped for time. While MSPs know there are a lot sales and marketing tools available out there in the market, they are not sure which ones really work. This whitepaper that lists the key marketing and sales enablement tools that every MSP should invest in, that will help them start off on the right note with their prospects.
Copyright 2006 - 2013 Mindmatrix, The Marketing Automation Software Company. All Rights Reserved.
*

denotes mandatory fields

| | | |
| --- | --- | --- |
| First Name | | * |

| | | |
| --- | --- | --- |
| Last Name | | * |

| | | |
| --- | --- | --- |
| Phone Number | | * |

| | | |
| --- | --- | --- |
| Email | | * |

| | | |
| --- | --- | --- |
| Company Name | | * |

To ensure this is a valid request and not an automated SPAM reply, please provide your answer to the simple math question below:

Check to state you have read and agree to our Terms & conditions
processing