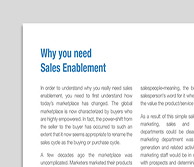 Why you need sales enablement
With buyers becoming smarter, thanks to the wide availability of information at their disposal and the newly compressed sales cycle, the need for a smarter sales team is being increasingly felt. Download this whitepaper to understand how sales enablement makes the average salesperson smarter by giving the sales them all the tools, skills and knowledge they need to sell more.
Copyright 2006 - 2013 Mindmatrix, The Marketing Automation Software Company. All Rights Reserved.
*

denotes mandatory fields

| | | |
| --- | --- | --- |
| First Name | | * |

| | | |
| --- | --- | --- |
| Last Name | | * |

| | | |
| --- | --- | --- |
| Phone Number | | * |

| | | |
| --- | --- | --- |
| Email | | * |

| | | |
| --- | --- | --- |
| Company Name | | * |

To ensure this is a valid request and not an automated SPAM reply, please provide your answer to the simple math question below:

processing