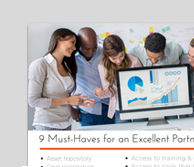 9 Must-Haves for an Excellent Partner Portal
Unlike your salespeople, yourchannel partners don't have handson access to your sales/marketing training sessions or brand induction workshops. They don't have the luxury of having a solid sales game plan chalked out for them every quarter. A partner portal compensates these negatives by providing your channel partners with easy access to critical elements that will help them close deals faster.
Copyright 2006 - 2013 Mindmatrix, The Marketing Automation Software Company. All Rights Reserved.
*

denotes mandatory fields

| | | |
| --- | --- | --- |
| First Name | | * |

| | | |
| --- | --- | --- |
| Last Name | | * |

| | | |
| --- | --- | --- |
| Phone Number | | * |

| | | |
| --- | --- | --- |
| Email | | * |

| | | |
| --- | --- | --- |
| Company Name | | * |

To ensure this is a valid request and not an automated SPAM reply, please provide your answer to the simple math question below:

Check to state you have read and agree to our Terms & conditions
processing